The Friends of Levens School, otherwise known as FOLS, are a group of volunteers who organise events to raise valuable funds that support every child in our school. Events such as Car Boot Sales, Coffee Mornings, Craft Fairs, Chocolate Bingo and quizzes all raise money that is spent on such things as transport costs, so that visits are more affordable for all, and funding access to popular educational websites, such as My Maths. We have bought books and a lovely rug to make the school library area more attractive and up to date.
Taking part is a great way to get to know other parents and friends and we welcome all offers of help. We look forward to seeing you at our next event!
Thank you to all who helped with the Local Arts and Crafts Fair – we raised £450.
The Christmas Fair was a great success, held on the Friday night, we raised just under £1000.
NEXT FOLS MEETING  Thursday 2nd March, 7.00pm, Hare and Hounds, Levens, All welcome
NEXT FOLS EVENT – **NEW DATE**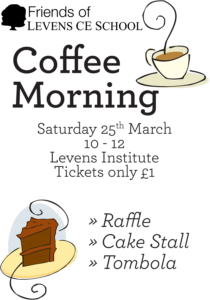 Please look out for texts and information in book bags about how we can all work together to make this a successful event and raise valuable funds for our children.
We'd like to share our thanks to everyone who has helped to raise FOLS funds recently and let you know what has been gifted to school this term. We have new magnets and materials for Science lessons, a range of six maps of different scales for Geography lessons and an exciting stack of up to date dictionaries and thesauruses and 2 larger more comprehensive class dictionaries. Thank you so much!