Experience God's Goodness - October 2019
We walked down to St John's Church in the glorious sunshine on Thursday to take part in Experience God's Goodness.  Members of St John's congregation had set up stations for us to visit focused on God's Harvest and the wonders of the natural world.
Harvest of the Earth helped us consider where materials come from like plastic comes from oil and metals are found in rock under ground.
Harvest of the Soil helped us think about what soil is made from and how its goodness feeds plants and is home to creatures such as worms.
At Harvest of the Grain we felt different grains like barley, oats and rice and learn how they grow.
Harvest of the Oceans helped us think of the wonderful creatures who live in our oceans and how we can help to reduce plastic pollution.
At Harvest of the Animals we thought about what different animals give us like meat, milk, leather and wool and how to look out for pictures on our food that tell us the animals have been well looked after.
Many thanks to all the volunteers from St John's and especially Pam, who organised and resourced the event.
Back at school we made pledges about how we could make a difference and these are on our tree in the library. They are really worth a read as there are good ideas for us all. If we can each do a little bit, those little bits add up to a big bit! What might you pledge?
Our Remembrance Service 9th November 2018:
Children across our school took at lead in our service of Remembrance this year with stories, prayers, drama, readings and poetry.  Children in Years 5+6 were responsible for designing and making the display area in our school hall.
Toilet Twinning Assembly October 2018:
Children in Year 5 + 6 have led two assemblies about toilet twining this term.  They presented information about the different countries we could support and then organised a whole school vote for every pupil and member of staff.  With our recent fundraising activities in school, we have enough money to sponsor two toilets in two different countries,
Photographs from this year's Harvest Festival September 2018:
Each September, we join together in a service of Harvest thanksgiving.  We bring gifts to be taken to Kendal Foodbank and we help raise money to support projects in developing countries, so that they can overcome hardship caused by drought, flood, disease etc and be able to become self-sufficient by farming their land successfully.
Our Harvest Festival at St. John's Church was a very special event again this year. Our service was led by children from across the school who contributed prayers, songs, reflections and their thoughts on the meaning of Harvest.
This year's donations have been generously gifted to Kendal Food Bank. Scafell Class told us all about the work of the Food Bank which supplies hundreds of meals in our community every year. Did you know that you can donate at any time; not just at Harvest?
Skiddaw Class reflected on the joy of sharing at Harvest time and Bowfell Class told us all about how to make Vegetable Soup. We are already looking forward to sharing the soup they will make next year using vegetables grown in their outdoor area.
In previous years we have supported the Bishop's Appeal in Malawi and Zululand.
During our collective worship time, we have learnt about the how food is supplied and wasted across the globe.  Learning that over 7,000,000million tonnes of food are wasted in Great Britain every year gave us lots to think about when we are shopping and eating meals with our families at home.  We also learned that there are over 700,000 people in the world who go without enough to eat each day.  How can food be distributed more fairly across the globe so that everyone has enough to eat?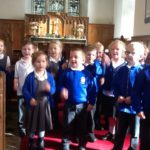 Bowfell Class singing, 'The Wheels on the Tractor'.
Open The Book:
Assemblies take place every Monday morning at 9am.
We welcome members of the local church into school. With the help of the children they act out Bible stories with great costumes, props and music.
Our Christmas Carol Service took place in the last week of term at St. John's Church.  Some of our older children retold the story of Christ's birth through readi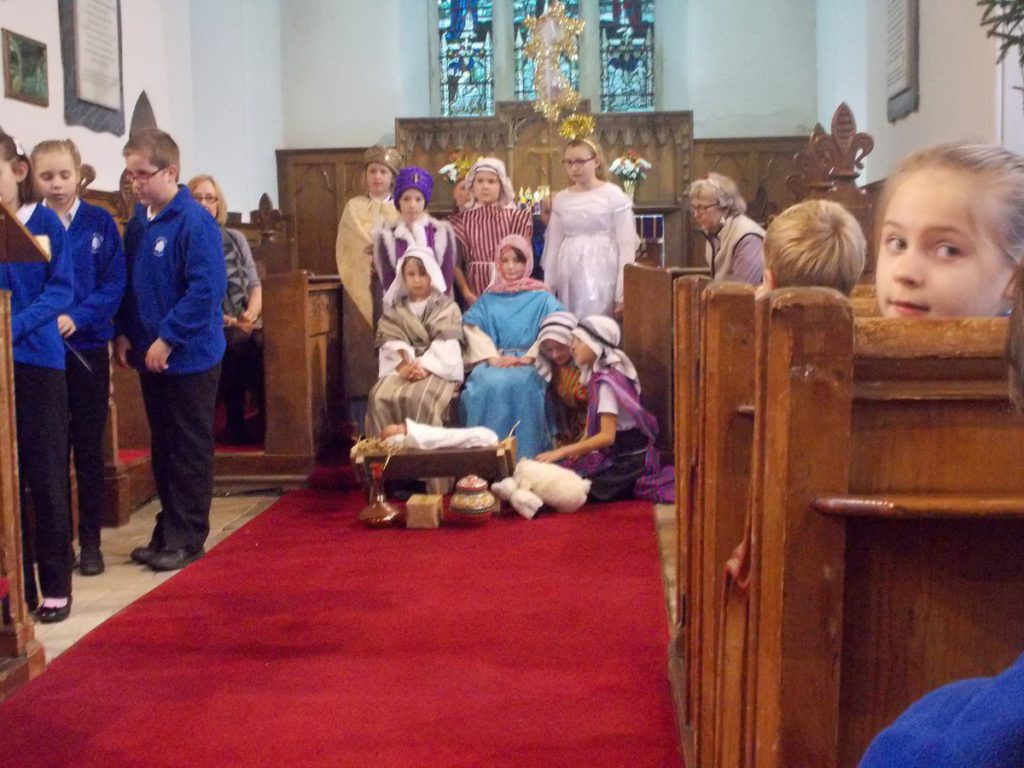 ngs and through role-play.  They also shared their very thoughtful prayers to help us reflect on the true meaning of Christmas and pray for children all around the world who are suffering.
In the lead up to Easter we have been listening and responding the Easter story in different ways which have included role-play from our Open the Book Team, RE lessons, collective worship and visits to St. John's Church for our 'Experience Easter' event and our Easter Service at the end of term.
We all walked down to St. John's Church to take part in 'Experience Easter' which involved taking part in six interactive stations that enabled us to deepen our understanding of the Easter Story and it's relevance to our lives.  These included: Servant King, Hopes and Dreams, Remember Me, Alone, Sharing our Sorrows and Resurrection.
Just before finishing for the Easter holidays, we walked down to St. John's again to take part in our Easter Service.  Each class contributed to the service.  Bowfell recited the first verse of William Wordsworth's 'Daffodils'; Skiddaw talked about and demonstrated their seed sowing and before they sang a lovely song: 'Sowing the seeds of Hope'; and finally Scafell retold the Easter Story in verse.