Autumn 2020 Update: we have made some adaptations to our usual routines and organisation of school in accordance with our risk assessment during the Coronavirus pandemic.  Therefore there may be some adaptations to the information provided on this page: 
Our children are organised into three separate mixed-age classes; Bowfell, Skiddaw and Scafell.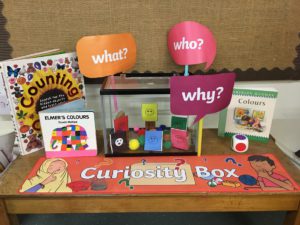 Bowfell: our Early Years class hosts our Reception and Year 1 children in two indoor classroom spaces and a wonderfully resourced outdoor area.  During the week, we also welcome some Nursery children into our Bowfell setting who are able to attend for up to 30 hours a week.   The children are well supported by a fantastic team of classteachers and teaching assistants.
Skiddaw:  This class is the home for our Year 2, 3 and 4 pupils who are very well supported by their classteacher, Mrs Wadey and two teaching assistants.
Scafell:  Our Year 5 and 6 class are taught by Mrs Farraday and Mr Dean.
Take a look at our class pages to find out more.  These can be found in the pupils section of our website.
Children arrive in school at 8.35am through the front entrance and settle quickly into a morning task in their classrooms.  Registration takes place at 8.45am.
All the children enjoy breaktime together between 10.20am and 10.40am on the main playground.
Each morning we have an assembly or collective worship in the school hall.  Every Friday we have a Celebration Assembly to share our learning and read out the names of children who have been recognised for doing something wonderful from our Golden Book. Take a look at our Calendar page to find out when our next Celebration Assembly for parents and family members is taking place..
Infant lunch begins at 11.45am. Key Stage 2 children's lunchtime begins at 12.  The children eat in our dining hall and many choose to have a school dinner.
Our afternoon session begins at 1pm and school closes for the day at 3pm.  Parents come into school playground to greet the children and enjoy the opportunity to talk to class teachers, if necessary, at the end of  the day.   Many of our children enjoy attending YoYo Club which provides after-school care for our working families from Monday to Thursday.  Alternatively, we also offer a range of after-school extra-curricular activities for the children to enjoy around the year.
Please take time to explore our website or contact the school office to arrange a visit.