Home learning Bowfell Class w/c 30.03.2020
T-L-5264-Cursive-Letter-Formation-Powerpoint-with-Rhyme
https://levens-my.sharepoint.com/:p:/g/personal/bowfell_levens_cumbria_sch_uk/EfG-TYElYm9Do55xnHpy75oBLi9xfKyfcYxFWIXg1bFk8Q?e=48wJYs

Home learning for w/c 23/03/2020
Bowfell Class Reception/Year One
Please find below/attached, work and activities which you can do at home next week which is directly linked to what we would be covering in school. I encourage as many of you as possible to make full use of Tapestry and upload photos of home learning. If you require any assistance with logging onto/using Tapestry then you can email me directly or with any other questions/comments regarding your child's learning at: bowfell@levens.cumbria.sch.uk
Activities for both Reception and Year One
Computing – we have been learning about technology around us (please see previous Tapestry post). Attached is an outline of a home. Identify as many different sources of Technology in different parts of the home as you can. You can draw pictures of objects or write words to tell me what you have found.
We were also planning on finding out what Technology is used by a member of our family or family friend in their jobs/everyday life. Please design a poster using pictures/words/sentences to tell me as much as you can about a person you know and what forms of Technology they use day to day, what they use them for and why they are helpful to them.
English/Literacy – attached you will find a copy of the story we innovated ourselves titled "The Gingerbread Man at Levens School" along with a photograph of the story map to go with it. We have practised retelling it a few times and added some actions of our own. The children can continue to practise retelling the story using the actions or adding new ones they have thought of themselves. Children in Y1 can re-write the story using the story map to form sentences. They should use the 'think it, say it, write it, check it' process to compose their sentences (they are familiar with this) and independently apply their phonics in order to spell words. I have attached a phonics mat and tricky word mat which they are used to using independently in order to spell the words they want to write. They should also concentrate on handwriting and punctuation including exclamation marks (Shout sticks!) Children in Reception could also have a go at writing some words/captions/sentences to go with different parts of the story. They could draw a picture for the beginning/middle/end of the story and do some writing to match each one. Again, please ensure that children are spelling words independently by saying words out loud, listening to the sounds they can hear and writing them down. I have attached a letter formation prompt sheet in order to help children remember how to form letters.
DT/Cooking - we were of course going to bake gingerbread men next week! If you can, bake some gingerbread men and post the photos on Tapestry. There are usually some simple recipes which can be found online through the BBC.
Reading/phonics – all children in R/Y1 have a log in for Teach your Monster to Read. If you have any problems with logging in please email me. The app is currently available for free download from the app store for a limited time. Phonics Play is also a useful website to use. Children can use the games in phase 3 (R) and phase 5 (Y1). If the games you want to use need a password in order to access, you can use the username: ucps and password: phonics.  Children in Year One who don't currently take part in phonics sessions should access their own IDL accounts at home like they would normally in school.
RE – in RE we have been learning about Lent, signs of spring and the Easter Story. On Bowfell's class page you will find a powerpoint containing the story of Palm Sunday. Please read and discuss this with your child. You will find a template and green straw in order for the children to make their own palm leaf. We were also planning on creating an Easter Garden, like the photo of the one below: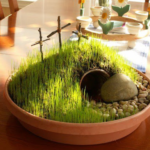 Please see the included instructions for making an Easter garden – most of the things you need you probably already have at home. Please upload photos of your garden onto Tapestry.
Year One phonics – included in this pack is a phase 5 tricky word booklet. The children are confident with reading these words but now need to be able to spell them independently and accurately. In addition to this booklet the children could also 'rainbow write' the tricky words (they all know how to do this), paint them, make them from playdough and pipe-cleaners, chalk them outside and then make them disappear using a paintbrush and pot of water etc. On the class page you will also find a powerpoint of phase 5 morning activities. There are different activities on each slide which can be done in any order. The children have been provided with books in order to record activities like this.
Year One handwriting – I have been teaching the children how to handwrite in a pre-cursive style. In this pack you will find a handwriting book and poster showing the formation of each letter. Please can children practice forming their letters in a pre-cursive style.
Year One maths – the current block of work we are doing is addition and subtraction within 20. We have covered the addition element of this already and have now begun looking at subtraction. I have included some guidance on the concepts the children need to understand in order to answer the questions on the included sheets. There are three parts to this – subtraction crossing 10 (1), subtraction crossing 10 (2) and related facts. There is a guidance sheet for each of the three sections along with questions for the children to answer and work through. 4
Reception phonics – in phonics we have been learning to spell phase 3 tricky words which are listed in the included pack. So far we have been practising he, she and we. The children need to continue to learn to spell these words independently and not encouraged to spell them as they sound because they are not phonetically plausible. The children can practise these by 'rainbow writing' them which the children all know how to do. If they do need a reminder this is the process: they write the word out in pencil first, they then choose 3 different coloured pencil crayons and go over each letter in one colour whilst saying the letter name (not the sound), then repeat this process using the other two colours they have chosen. They could also paint them, make them from playdough and pipe-cleaners, chalk them outside and then make them disappear using a paintbrush and pot of water etc. Once the children are confident with spelling these words independently, they can then choose another 3 to learn and so on. On the class page you will also find a powerpoint of phase 3 morning activities. The children can work through this up to slide 8 only please for now. I will provide further information in due course regarding the learning of new phonemes but for now the children should concentrate on consolidating their reading and spelling skills of the phonemes that we have covered together in class. I have sent home a book that the children can record their learning in. 
Reception maths – in maths we have been exploring the number 10. We have watched the CBeebies Numberblocks episode '10 again' where ten splits itself into 2 numbers (we refer to these as number bonds to 10). The children have worked practically using Numicon pieces to find which ones fit together to total 10. The children have practiced saying this as what we call a 'STEM' sentence, e.g "six plus four equals ten." We have also discussed that it doesn't matter which way round we say the numbers – we could say "four plus six equals ten."
Things you could do at home might be to arrange 10 cushions on the floor in rows of 2 like a bus. Children could arrange teddies or dolls to sit on the bus. You could ask them questions such as "there are three teddies on the bus, how many more teddies is there space for?" and so on. You could chalk a ten frame on the ground outside and hide 10 toys. As the children find each one they place it on the frame, you could ask questions such as "how many more toys have you to find now?" each time another is added. Please see below for a diagram of a tens frame: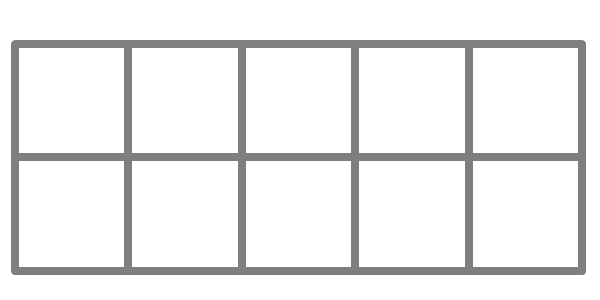 The children have also been introduced to what we call a 'part/whole' model (see below). The whole in this case would be the 10 and the parts the different numbers which when added together total 10.

The children could make a 2 fields using small world play equipment and choose 10 different animals. How many ways can they split the animals into the 2 fields? Can they record the numbers in a part/whole model? I have included some blank ones in this pack.
Find 10 different containers, you could use plastic cups, tubs, bowls etc. Label each one with the numbers 1-10 and ask the children to count the corresponding number of an object into each one – this could be pebbles, conkers, buttons, coins etc. Can they find 2 pots which have a total of 10? How can they check they are correct? Can they find all the ways to do it? Can they find 3 pots which total 10? How many different ways can they do it? Can they record their answers in a part/whole model?
For all of our dough disco loving children in Bowfell please see above! If you have no play dough at home I will post a simple recipe to Tapestry.
Please upload photos of all these activities onto Tapestry.
Follow the link to get Phase 3 phonics PowerPoint
Bowfell Class EYFS + Y1
Bowfell Class is our Early Years and Year 1 Class.  Mrs Haslam is the class teacher and the class is supported by our teaching assistants:  Miss Butler, Mrs Troughton and Mrs Mason.
Welcome to Reception September 2019
Parents of our Nursery and Reception children can access the Tapestry homepage for your child's online Learning Journey by clicking the link:  https://eylj.org/
What we are doing this term