Welcome to Class Four
We are 17 year 5 and 6 children taught by Mr Dean and Mrs Farraday.
Our class is very well supported by our teaching assistant, Mrs Matheson, with additional support from Mrs Mason.
Our class email address is: class4@levens.cumbria.sch.uk - please feel free to contact us with any questions you have and we will get back to you as soon as possible.
Home Learning Information

All children in Class 4 have a blue Homework Diary with details of weekly homework set on a Friday. Homework is usually expected to be handed in on the following Friday.
Online learning -

- TTRockstars - We use TTRockstars in school to practise our times tables. All students should aim to spend at least 15 minutes on TTRockstars per day. Practise in the "garage" before tying a "soundcheck" to see if you've beaten your best score!
- IDL - To improve spelling, students have opportunities in school to use the IDL application. This can also be accessed from home if needed.
Forgotten your login information? Login information for the services above can usually be found inside a student's home learning diary. If you have lost or forgotten your username or password, please let us know as soon as you can and we will be able to reset it for you.
Useful Social Media Information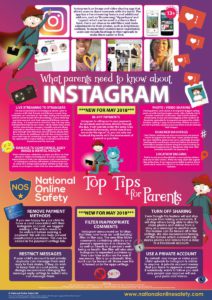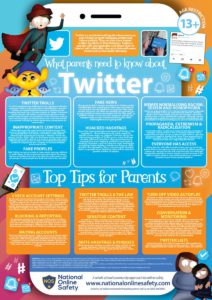 Larger versions of this information for Instagram & Twitter can be found here. For the information on TikTok, click here.
Welcome back for the start of the spring term!  We look forward to some exciting topics and experiences over the next few weeks.
Curriculum Overview:
Maths: For our summer term in maths we will cover shape, space, measure and statistics. This includes; measuring and calculating angles, calculating the area of rectangles, drawing and decomposing shapes, among other topics. There is time set aside for Year 6 to prepare and revise for their SATs examinations while Year 5 apply their knowledge so far to reasoning and problem solving activities.
English: Our writing this term is guided by our learning in other curriculum areas, as we create information and explanation texts on the subject of electricity (science) and crime & punishment (history). Narrative writing this term is inspired by the short film "Ruin". SPaG this term focusses on the sentence level, considering tenses and clauses. Finally, our guided reading continues with a focus on answering specific question types with reference to a text.
Science: In science, we study the topics of electricity and light. We start by recapping the unique properties of some materials as electrical conductors, and make use of this to build and test a range of different circuits, representing our work using circuit diagrams. We will also learn about electrical safety in a range of scenarios. In light, we will identify that light travels in straight lines from a source, and investigate how this allows us to see.
Topic: Crime & Punishment takes centre stage this term for our history topic as we study the changes in this aspect of our social history which extends our chronological knowledge beyond 1066. In geography, students develop their fieldwork skills to observe, measure and record features of the local area.
RSHE: This term, our RSHE work is led by the SCARF curriculum, and focusses on "valuing difference". We will examine the qualities of a good friend and a good listener, as well as how to value and respect people who are different from us.
PE: Sports covered as part of our PE offer this term include rounders, cricket, athletics and
orienteering. Students will develop their knowledge of different roles in team games and select different paces for different athletic disciplines. Please note that P.E. is now scheduled for Mondays and Tuesdays each week.
Computing: Our focus in computing this term is on programming, where we cover two different units on the use of repetition and loops within code. This will allow us to draw different shapes and create simple games.
RE: Our Christian Value for this term is peace. Our RE lessons focus on the Kingdom of God and leaders in Islam and Buddhism.
D&T: To support our science learning, design and technology this term focusses on building "buzzer mazes" applying our knowledge of circuits.
Art: In art, we focus on landscapes using watercolours, inspired by the work of William Heaton Cooper.
French: We cover two units of work in French this term - music & musical instruments and counting from 1-60 & telling the time.