Welcome to Scafell Class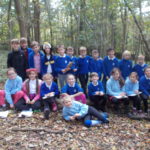 We are 21 year 5 and 6 children taught by Mr Dean and Mrs Farraday.
This term we are looking forward to investigating forces and light in Science.  We will be developing our locational knowledge and map skills when we explore our surrounding area and compare human and physical features with the city of Edinburgh.  We are already very excited about our forthcoming two night residential to Edinburgh later in this term.
Spring Term Curriculum
Our curriculum this term involves:
Maths: In maths we will be continuing to develop skills using all four operations in a range of contexts and begin the term by ensuring our knowledge of multiplication tables facts can be quickly recalled.  There is a focus on fractions this term: addition and subtraction of fractions for both year groups; and divison and multiplication for year 6.  We will also explore the relationship between fractions, decimals and percentages and be able to find equivalents and convert between each representation.   Other areas of focus are: properties of 2D and 3D shape, area and perimeter; measurement; angles; including circles for year 6; and reflection, translation and coordinates.
English: Our fiction writing this term is based around the classic narrative poem; The Highwayman.  Non-fiction writing this term includes persuasive writing and information texts linked to our Edinburgh trip. Later in the term, we will also be writing our own 'Just So' Stories inspired by Rudyard Kipling and studying the poem Tyger Tyger by William Blake. We continue to study a novel in our two guided reading sessions each week and extend our spelling, handwriting, punctuation and grammar skills during morning tasks and English lessons.
Science: Forces - We start the term exploring forces and developing our scientific skills through practical investigations.  We will be looking at magnets and the effects of gravity as well as identifying the effects of air resistance, upthrust in water and friction.
Light – Our work focuses on observing how light travels; exploring and identifying light sources; and investigating shadows.
Topic: Settlement Studies: physical and human features, map work, grid references, reading and interpreting grid references and points of the compass.
PE: Invasion Games/Gym and Dance/ Striking and Fielding.
Computing: This term we will be developing our skills to search safely and effectively on-line and present information for our topics in different ways. We will also use Scratch to program and debug.
RE:  Exploring our Christian Value of 'Love' and The Bible-Special Books; as well as work related to the Christian calendar - Lent and Easter.
DT: Shadow Theatres
ART:  Henri Rousseau 'Tiger in a Rainforest'; animal prints and pattern; Lowry and the city; silhouettes; Drawings inspired by poetry.
French: At the Café – Food and Drink
We will also be visiting our woodland area to enjoy some more Forest Schools activities after half term.  This term's theme is Dens and Survival.