Welcome to Scafell Class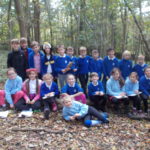 We are 20 year 5 and 6 children taught by Mrs Duckworth and Mrs Farraday.
The year begins with a trip to Westmorland County Show.  Look out for our school's display in the Learning for Life tent.
This term we are looking forward to investigating Earth and Space in Science.  We will be finding out about the relationship between the Earth, Sun and Moon; about other planets in the solar system; and about stars, comets and asteroids. Look out for information about our learning this year on the school blog page.
Autumn Term Curriculum
Our curriculum this term involves:
Maths: In maths we will be focusing on number this term.  We will begin by consolidating our knowledge and understanding of place value and the number system exploring very large whole numbers, decimals and negative numbers. We will be working hard to ensure we know our multiplication tables up to 12x12 and be able to apply our knowledge.  We will be developing our skills to add, subtract, multiply and divide; and solve problems using these operations in different contexts, including money.  We will also be exploring coordinates, symmetry and translations later in the term.
English: A large amount of our writing this term will be linked to our topics. We will be writing a range of genres including recounts, information texts and explanations; as well as poetry and narratives. We have two guided reading sessions every week where the children will study a novel in detail and we will work on improving spelling, handwriting, punctuation and grammar during morning tasks and English lessons. This term we will be focusing on spelling rules and patterns e.g, ie before e, plurals and verbs. We will be learning about word classes; nouns, verbs, adjectives, adverbs etc and developing our understanding of more sophisticated punctuation e.g semi-colons, apostrophes, colons so that we are able to use them in our own writing.
Our class novel this term is: Wonder by RJ Pacacio.
Science: Earth and Space.  This topic involves finding out about the movement of the earth and other planets in relation to the sun; as well as understanding how the relationship between the earth, moon and sun determines day and night, months and years.
Topic: Geography: Volcanoes and Earthquakes
PE: Swimming + Netball/Basketball.  Gymnastics.
Computing: This term we will be developing our skills to search safely and effectively on-line and present information for our topics in different ways.
RE:  Exploring our Christian Values 'Peace' and asking 'What does it mean to be a Christian?'; as well as work linked to Harvest and Christmas.
DT: Making Chinese Fans for our Westmorland County Show Display.
Designing and making an orrery-a mechanic model of the solar system.
ART:  Self-portraits. Julien Opie. Willow Pattern.
French: School Days
We will also be visiting our woodland area to enjoy some Forest Schools activities during this term.  These will take place on Tuesday afternoons.  If you are free to help walk the children to and from our outdoor woodland area any Tuesday afternoon between 1pm and 3pm please talk to Mrs Farraday.  This term's theme is 'Nature Explorers'.