Welcome to Scafell Class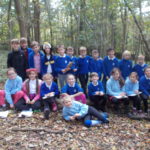 We are 21 year 5 and 6 children taught by Mr Dean and Mrs Farraday.
Our class is supported by our teaching assistants Mrs Mason and Mrs Troughton.
This term we are looking forward to investigating the ancient and intriguing Eqyptian civilisation.  We will be developing our understanding of materials through our science curriculum.  We are already very excited about our forthcoming trips this term which included; Westmorland County Show and to the Liverpool World Museum.
Spring Term Curriculum
Our curriculum this term involves:
Maths: In maths we have a focus on fractions. Previous learning of how fractions can be used as both a number (e.g. one half) and an operation (e.g. half of 10) will be revisited, before knowledge is applied to more complex operations including the multiplication and division (year 6 only) of fractions. The relationship between fractions, decimals and percentages will be a further core topic this term, with students finding equivalents in each representation. Other areas of focus are: properties of 2D and 3D shape; area and perimeter; measurement; angles; circles (year 6 only); and reflection, translation & coordinates. As always, there will also be an emphasis on fluency and speed of calculation in arithmetic lessons associated with our learning.
English: This term our writing begins with a book review and a persuasive letter based on 'Boy at the Back of the Class'. Non-fiction writing includes instructions and information texts linked to our curriculum topics. We will be identifying the features of biographies and autobiographies in preparation for our own biographical writing. In guided reading we continue to study novels and non-fiction texts in our two sessions each week and extend our spelling and handwriting during morning tasks and English lessons. We will be learning more about the function of a range of punctuation including: inverted commas, hyphens, semi-colons and apostrophes to use and apply in our own writing; as well as developing our understanding of sentence grammar and verb tenses.
Science: Science this term will focus on Electricity. We will begin with learning about electrical safety, before moving on to building circuits and exploring the effects of different components. We will apply our knowledge later in the term to a Design and Technology project of building a carnival game.
Topic: Topic lessons have a Geography focus this term as students learn about the world around them. We will use a range of skills to identify and compare key aspects of human and physical geography across the globe.
PE: Invasion Games/Gym and Dance/Striking and Fielding.
Computing: Our computing topic begins this term with a range of "unplugged" activities and games to develop our understanding of how computers work, before applying our skills to program a game in Scratch.
RE: Exploring our Christian Value of 'Forgiveness'.
Understanding Christianity: Salvation – What did Jesus do to save us? How was the crucifixion of Christ a sacrifice?
DT: Exploring electronic games and toys
Art: Still Life and observational studies. The work of Paul Cezanne.
French: Quel temps fait-il?
Music: Composition and musical notation
Forest Schools: We will also be visiting our woodland area to enjoy some more Forest Schools activities inspired by our learning in the curriculum.