Useful Documents
Welcome to Scafell September 2020
Homework - 09.10.20
Scafell Homework: 9.10.20
Reading: Read 5 times.  Record in your reading record.
Word work: Practise your 5 pairs.  Please do this in your spelling log so that we can see evidence that you have practised your words. Remember to complete the word work activity.
English – Prepositions: A preposition tells us when or where something is. The sheet says there are eleven to spot, but two of them are really tricky! Complete the worksheet and write your own paragraph to describe your (hopefully tidy!) bedroom using prepositions.
Maths: A sheet of work to test you either on the work we have just done, or prepare you for the work we're about to start. If there is anything you are really not sure about, make a note of it and please let me know so we can cover it next week!
Maths facts: Your maths facts to learn for this week are: 8x7=56, 6+5=11, 9+7=16, 8+3=11 & 4x3=12. Good luck!
Topic: Next week we are doing observational studies of leaves.  Please can you bring in a small collection of leaves to draw and paint.

Please bring in on Tuesday!
All work, except leaves and spelling logs, to be returned next Friday 16th October.
Welcome to Scafell Class
We are 22 year 5 and 6 children taught by Mr Dean and Mrs Farraday.
Our class is very well supported by our teaching assistant, Mrs Mason.
Our class email address is: scafell@levens.cumbria.sch.uk - please feel free to contact us with any questions you have and we will get back to you as soon as possible.
Please continue to scroll down our classpage for further useful information!
Useful links for Home-Learning
- TTRockstars - We use TTRockstars in school to practise our times tables. All students should aim to spend at least 30 minutes on TTRockstars per day. Practise in the "garage" before tying a "soundcheck" to see if you've beaten your best score!
- MyMaths - Homework is sometimes set via MyMaths, which can be accessed with the link and logged into using your childs personal account.
- IDL - To improve spelling, students have opportunities in school to use the IDL application. This can also be accessed from home if needed.
Forgotten your login information? Login information for the services above can usually be found inside a student's home learning diary. If you have lost or forgotten your username or password, please let us know as soon as you can and we will be able to reset it for you.
Useful Social Media Information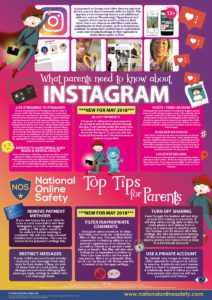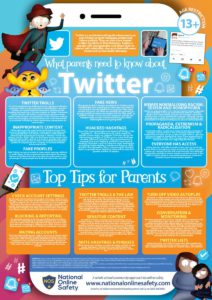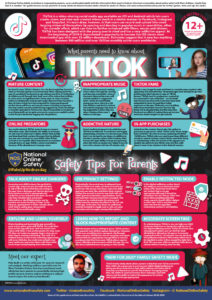 Larger versions of this information for Instagram & Twitter can be found here. For the information on TikTok, click here.
Autumn Term Curriculum 2020:
Maths: We will start the year by focussing on number. We will be looking at very large whole numbers and using place value to read, represent, order, compare and round these numbers. We will also be looking in more detail at Roman Numerals and negative numbers. Once we are comfortable with this, we will be moving on to using numbers in the four operations - addition, subtraction, multiplication and division. This will include lots of work on: factors and multiples; tips and tricks for quicker calculations; prime, square & cube numbers and the order of operations. Lastly, we will begin work on fractions, finding out how fractions of different types are related and how equivalent fractions can be calculated. We will also explore the relationship between improper fractions and mixed numbers. This will underpin our work on comparing and ordering fractions and using the four operations on fractions. Lastly, we will explore finding fractions of amounts.
English: A large amount of our writing this term will be linked to our topics. We will be writing a range of genres including recounts, instructions and explanations; as well as poetry and narratives. We have two guided reading sessions every week where the children will study a range of texts in detail and we will work on improving spelling, handwriting, punctuation and grammar during morning tasks and English lessons. This term we will be focusing on spelling rules and patterns e.g, ie before e, plurals and verbs. We will be learning about word classes; nouns, verbs, adjectives, adverbs etc and be revisiting our knowledge of the use of basic punctuation including capital letters, exclamation marks, commas and apostrophes to ensure we use these accurately in all our writing. Our class novel this term is: Stig of the Dump by Clive King .
Science: Materials: NCY5 making and recovering solutions. Separating mixtures. Reversible and irreversible changes.
Geography: A locational place study of Greece and comparison of its physical and human features with the UK (autumn 1)
History: Ancient Greece – a study of Ancient Greek life and achievements including their influence on the western world (autumn 2)
PE: striking and fielding – rounders and cricket. Athletics.
Computing: This term we will be exploring online safety; learning about
data gathering & consent; and creating digital media with vector drawings
RE: Exploring our Christian Values 'Thankfulness' and understanding Creation and Fall in Christianity; as well as work linked to Harvest and Christmas.
DT: Baking Bread, designing and making scaled models of Greek temples, a Greek banquet.
ART: Portraits – Julien Opie and art inspired by Ancient Greece.
French: Greetings, numbers to 100 and all about School (autumn 2)
Music: Exploring influential musicians from past and present
We will also be visiting our woodland area to enjoy some Forest Schools activities during the first part of this term. This term's theme is outdoor challenges and problem solving.