Useful Documents
Scafell Class Newsletter Spring 2021
Scafell Curriculum Map 2020-21
Homework

Scafell Homework: 4.12.20
Monday – non uniform day – please remember your gift-wrapped donation for our raffle!  Wear clothes and footwear suitable for PE please.
Reading: Read 5 times.  Record in your reading record.
Word work: This week you have a personal spelling list of 10words derived from your writing book or from incorrect answers in spelling tests this term!  You will be tested on all ten during the course of next week.  Please make sure your spelling log is in school every day next week!
English: Reading Task

Y6 – complete your activity on the sheet.

Y5 - Cyclops reading comprehension - read the story and answer the questions.
Maths:

Practice your division facts by playing the Division Facts on "Hit the Button" this week. Play at least 10 games and record your scores on the sheet.
Topic: Week 2 of your project on a Greek mythical creature. We are looking forward to seeing your amazing work next week!
Hand in: Friday 13th December
Welcome to Scafell Class
We are 22 year 5 and 6 children taught by Mr Dean and Mrs Farraday.
Our class is very well supported by our teaching assistant, Mrs Mason.
Our class email address is: scafell@levens.cumbria.sch.uk - please feel free to contact us with any questions you have and we will get back to you as soon as possible.
Useful links for Home-Learning
- TTRockstars - We use TTRockstars in school to practise our times tables. All students should aim to spend at least 15 minutes on TTRockstars per day. Practise in the "garage" before tying a "soundcheck" to see if you've beaten your best score!
- IDL - To improve spelling, students have opportunities in school to use the IDL application. This can also be accessed from home if needed.
- MyMaths - Homework is sometimes set via MyMaths, which can be accessed with the link and logged into using your childs personal account.
Forgotten your login information? Login information for the services above can usually be found inside a student's home learning diary. If you have lost or forgotten your username or password, please let us know as soon as you can and we will be able to reset it for you.
Useful Social Media Information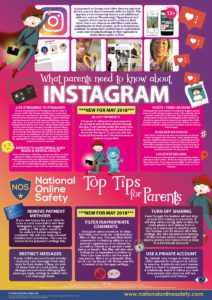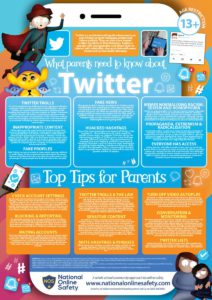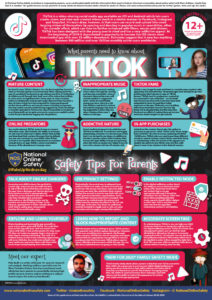 Larger versions of this information for Instagram & Twitter can be found here. For the information on TikTok, click here.
Spring Term Curriculum 2021:
Scafell Curriculum Map 2020-21
Maths: Our maths this term will focus on fractions, decimals and percentages. We will first review the concept of a fraction, exploring what a fraction is and is not. Our work on equivalent fractions will be vital to understanding using fractions later in the unit. We will look at the different ways fractions can be used as numbers and operators, before moving on to adding, subtracting, multiplying and dividing fractions. When we are comfortable with fractions, we will apply our knowledge to decimals and percentages, with year 6 taking time to also explore ratio and algebra.
English: This term our work in English begins with writing narratives based on 'The Highwayman' by Alfred Noyes.  We will also be reading and identifying the features of creation stories, including the Christian creation story, before writing our own versions of Mayan Creation tales. Our non-fiction writing will relate to our learning in other areas of the curriculum and include biographies, non-chronological reports and explanations. In guided reading we will continue to study novels and non-fiction texts in our two sessions each week and extend our spelling and handwriting skills during morning tasks and English lessons.  The function of a range of punctuation, including inverted commas, brackets, semi-colons and apostrophes will be explored to use and apply in our own writing; as well as developing our understanding of sentence grammar and verb tenses. Our class novel this term is Wonder by RJ Palacio (please do not be tempted to watch the film).
Science: Science this term will focus on Evolution and Inheritance.  We will examine how living things change over time; as well as looking at adaptation.  The second half of the term will look at life-cycles and reproduction in plants and animals.
Topic: We begin by exploring the physical and human similarities and differences between Guatemala and the UK.  We will then move on to investigate the Mayan civilisation in the context of an non-European society which provides contrasts with Britain.
PE: Invasion Games – netball and lacrosse.
Computing: Our computing topic begins this term with databases where we will design and use a flat file database.  We will also revisit how to be safe online and take part in Safer Internet day in February.
RE: Understanding Christianity – Creation and Fall – conflicting or complimentary? Exploring our Christian Value of 'endurance'.
Lent and Easter.
DT: Bridge Building Challenge!
Art:  Animal studies by Steven Brown and Carolee Clark. Observational drawings  of plants and animals including work by Georgia O'Keefe.
RSHE: Living in the wider world: money and work - identifying job interests and aspirations; career choices and workplace stereotypes.
Respecting Ourselves & Others: expressing opinions and respecting other points of view, including discussing topical issues.
French: At the Café – food and drink
Music: Understanding and knowledge of different genres of western music, including: classical, disco, rap, gospel and Rock & Roll.
Forest Schools: Nature Explorers