Welcome to Scafell Class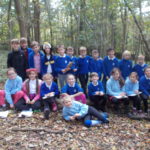 We are 21 year 5 and 6 children taught by Mr Dean and Mrs Farraday.
Our class is supported by our teaching assistants Mrs Mason and Mrs Troughton.
This term we are looking forward to investigating the ancient and intriguing Eqyptian civilisation.  We will be developing our understanding of materials through our science curriculum.  We are already very excited about our forthcoming trips this term which included; Westmorland County Show and to the Liverpool World Museum.
Autumn Term Curriculum
Our curriculum this term involves:
Maths: In maths we will be focusing on number this term. We will begin by consolidating our knowledge and understanding of place value and the number system exploring very large whole numbers, decimals, fractions and negative numbers. We will be working hard to ensure we know our multiplication tables up to 12x12. We will be developing our skills to add, subtract, multiply and divide; and solve problems using these operations in different contexts. We will also begin our work on fractions, identifying what fractions represent and using fractions in a variety of contexts.
English: A large amount of our writing this term will derived from the wider curriculum, trips and our class novel 'The Boy at the Back of the Class'. We will be writing a range of genres including newspaper reports, letters, recounts, information texts and explanations; as well as poetry and narratives. We have two guided reading sessions every week where the children will study short extracts and also a novel in detail. We will work on improving spelling, handwriting, punctuation and grammar during morning tasks and English lessons. This term we will be focusing on spelling rules and patterns e.g, ie before e, plurals and verbs. We will be learning about word classes; nouns, verbs, adjectives, adverbs etc and developing our understanding of more sophisticated punctuation e.g semi-colons, apostrophes, colons so that we are able to use them in our own writing.
Science: Materials - Examining the differing properties of materials and considering how these properties make materials useful in different ways. Finding out about different states of matter and how reversible and irreversible changes affect materials.
Topic: History – Exploring the Ancient Egyptians and their culture, applying our learning to create artwork relating to the Egyptians.
PE: Swimming + Netball/Basketball. Gymnastics.
Computing: This term we will be developing our skills to search safely and effectively on-line and present information for our topics in different ways. Later this term we will be developing our understanding of computer networks.
RE: God - What does it mean if God is loving and holy? Exploring our Christian Value 'Service'; as well as work linked to Harvest and Christmas.
DT: Forces - Finding out about simple machines including levers and pulleys, exploring how mechanical advantage may have helped the Egyptians build pyramids.
ART: Kandinsky, Art inspired by Ancient Egypt
French: All about Moi!
We will also be visiting our woodland area to enjoy some Forest Schools activities during this term.