We've been reading Oliver's Vegetables this week and thinking about how we can look after our bodies and stay healthy.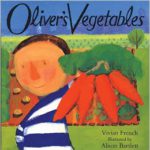 From our vegetable patch story tray, Olivers Grandma left us a note on Tuesday. She wanted to make Oliver some delicious carrot soup but when she went to harvest her carrots they were no where to be seen. Bowfell Class quickly set about making posters for Grandma's lost carrots.
On Wednesday we went on the hunt for Grandma's carrots and found the a clever little rabbit sat in Mrs Farraday's office. He'd had a lovely time hiding all the carrots from the vegetable patch.
On Thursday we helped Oliver's Grandma by using her recipe to make the soup.
Mmmm…delicious!